Coromandel Art & Craft
The Coromandel - a Mecca for Artists
The natural beauty and Coromandel lifestyle has always been popular with artists of all types. Galleries stock a wide range of local art: pottery, handmade wooden furniture, felting and fashion clothing, jewellery, paintings, sculpture, flax work and carvings.
It's possible to do an art trail or visit artists and potters in their own studios, purchase work and have a chat.
Coromandel Town Art & Craft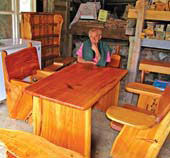 Call in to Greg Taylor's studio/workshop in Colville for golden hand crafted furniture with an oil finish. The range includes: tables, bench seats, (indoor and outdoor) book shelves, blanket boxes, entertainment units, bar units, benches and breakfast bars. Commission work is welcomed. Small items suitable for gifts, cutting boards etc from just $10.
High quality art, outstanding design - WETA the art store with a difference! We stock work from NZs finest artists: handblown glass, ceramics, paintings, jewellery, Maori works include flax and unique carving in bone and timber. Find the perfect gift! Purchase Tax-Free with mailing overseas. Open Daily.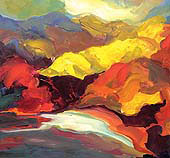 Barbara's vibrant scenery, still life and floral paintings in water media, show a strong sense of design developed during her formal training as a fabric designer. Her work has received many awards and has featured in art publications worldwide. Also on show, works by w/colourist Patrick Greene. Quality accom available - Pacific Blue Apartment.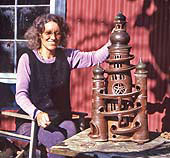 Well respected potter Petra Meyboden produces a large range of domestic and decorative stoneware. Her work is a mix of functional design and whimsey with excellent detailing, colour and textures. See Petra's work at the Driving Creek Railway Craft Shop.
Kennedy Bay Road
Coromandel Town
Phone: 07 866 7906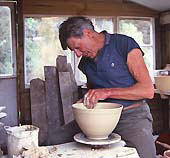 Visit Barry Brickell's Pottery at the railway station and see a wide range of ceramics produced by Barry and other leading local artists. Shop at studio prices for ceramics, local books and native plants. Learn about Barry Brickell's vision – the combination of art, conservation and engineering. We are 3km north of Coromandel Town and well signposted.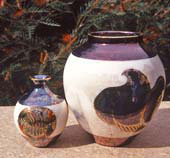 Mike Cogswell's work is mainly multi fired, high quality, lustre ware pottery. He also paints and etches. His work is available at Weta Design or he can be visited in his Coromandel studio by arrangement.
800 Buffalo Road
Coromandel Town
Phone: 07 866 8022
Whitianga & Hahei Art & Craft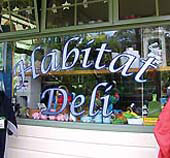 We sell a large exciting range of gifts for everyone, including hats, sunglasses, paua, silver and bespoke jewellery, toys, clothing, souvenirs. We also have a well stocked deli with kitchenware, speciality foods and small goods. Right next to Luna Cafe.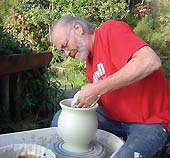 Alan and Julia make a large range of distinctively glazed Coromandel pots using clay dug from their own property. Visitors are welcome. SH25 at Whenuakite between Coroglen & Hahei turnoff.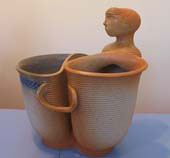 Ian has been working in clay since 1981, specialising in hand built work using slab and coil techniques. He has developed his own methods and distinctive style which includes hand carved scenes of the Coromandel. His sculptural forms continue to evolve with the figurative work taking on a more surreal appearance. 17km north of Whitianga on the right just before Kuaotunu.
Thames, Whangamata, Southern Region Art & Craft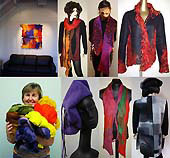 I design and create one-off fashion garments and accessories from finest NZ merino wool. Visit my Gallery or website. Regular felt-making workshops - a fun day producing your own creations. Also see www.creativevacationz.co.nz our felt-making tours for small groups. Opposite iSite. Open 7 days.
85 Whitaker Street
Te Aroha
Phone: 07 884 8846
Workshop inquiries: rpo@ihug.co.nz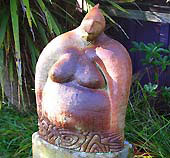 Clayworker, vessel maker, sculptor, storyteller, internationally recognised. His workshop and gallery nestled amongst nature, mountains and stream invites you into a creative experience. Michael's work is vibrant, in story, tradition, colour and form, a true reflection of the natural environment he is passionate about. Est. 1974. We are 1.5km South of Paeroa.
70 Old Reservoir Road
Paeroa
Phone: 07 862 7380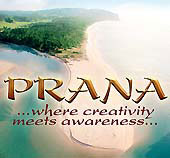 A beautiful coastal venue for summer festivals and events, a meeting place for global travellers, artists and musicians. Swim or surf on Opoutere Beach and enjoy beach and bush walks. Check website for our summer program and come enjoy music, art, workshops, yoga and healthy vegetarian food. A nomadic pit stop to rejuvenate and refresh body, soul and mind!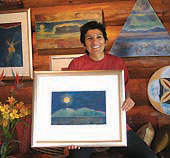 Contemporary French/NZ artist Guity Evelyn's unique textured style has made her paintings sought after by collectors wordwide. Reflections of the Coromandel with hints of her native Provence create a distinctive boldness of colour... the Mediterranean meets the Pacific. View these original works at her home/studio overlooking unspoilt Opoutere Beach. Open Daily and well signposted.
Opoutere Road
Opoutere
Phone: 07 865 7266
david.topadahil.studios
@hotmail.com