Coromandel Town Business Listings
Businesses in Coromandel, Colville and the region
Coromandel Town services the north western region of the Coromandel and has all types of businesses supporting the holidaymaker.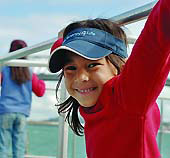 Sit back and enjoy the Hauraki Gulf's best scenery with 360 DISCOVERY. One way, return, 1 day excursion or weekend escape - see our website for details, schedules, packages and fares. The ferry calls at Orapiu on Waiheke's eastern end. Fare includes bus transfers from Wharf to Coromandel Town. Bikes are FREE!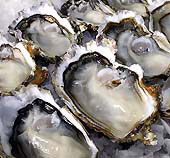 Our 20 years of oyster farming means premium oysters at an affordable price: whole shell, half shell or pots. Also stocked: fresh local mussels, prawns, scallops, kina, mussel chowder, sauces, oyster bisque and smoked seafood. Wholesale enquiries are welcome. Open 7 days 9am-5pm.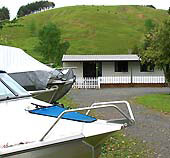 Save on holiday towing hassles - leave your boat (or car) with us, outside or under cover. We have all facilities: boat wash down, fish cleaning, walk in chiller and accom. Full monitored security system. We are also Peninsula Electrical for all your electrical problems.
1750 SH25 South
(Opposite air strip)
Coromandel Town
Phone: 07 866 8166
Fax: 07 866 8162
ravinder@e3.net.nz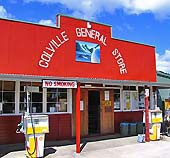 This old-style general store stocks everything you need - groceries, organic and bulk goods, t-shirts, sarongs, sun-hats, fishing tackle, bait, hardware, local crafts and produce. Also the last stop before the cape for petrol and to get BBQ bottles filled. This is our 30th Anniversary Year, so stop in & pick up a souvenir!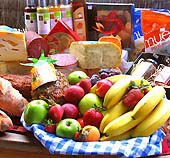 Much more than a Fruit and Vege Shop! Fresh fruit and veges every day, organic groceries, imported and local cheeses, gourmet chocolates and fudges. Specialist jams, pickles and sauces, deli meats, muesli, fresh baked organic bread and our own real fruit ice cream. Always Something New at Tastebuds!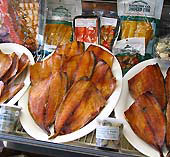 This iconic family business continues to use time-honoured skills to produce the finest quality mussels, oyster and smoked seafood delicacies. Rave reviews: The Herald on Sunday rated our smoked fish as 'in New Zealand's 10 best gourmet foods' and Air NZ Magazine article - 'the best smoked fish in the world!'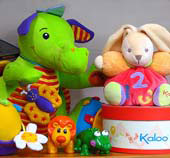 Our long-established family business stocks footwear, gifts and summer holiday clothing for the whole family, including top brands like Ripcurl, Billabong, and RPM We also keep the traditional drapery lines like ribbons and laces, buttons and beads, embroidery & patchwork fabrics etc. Hours: Mon - Fri 9 - 5, Saturdays 9 - 1
For discount groceries, bread, fresh vegtables and fruit, meat, milk, health foods, hot rotisserie chickens, NZ & imported wines and beer. LOTTO & INSTANT KIWI. Normal Trading Hours: Mon-Sat 8am-6pm, Sun 9am-6pm. Hours extended Saturdays and summer months. See us for all your holiday supplies. EFTPOS and CREDIT CARDS.
18 Kapanga Road
Coromandel Town
Phone/Fax: 07 866 8808