Whitianga, Hahei and the Region
Including Matarangi, Kuaotunu, Opito Bay, Cooks & Hot Water Beaches
Whitianga is a popular holiday destination with plenty for the visitor: excellent cafes, restaurants and bars, all types of activities including boat tours, sightseeing, helicopter rides, kayaking, diving, fishing, shopping, stuff for kids and all beach fun. Choose from a full range of Whitianga accommodation - motels, backpackers, lodges and camp grounds.
The Whitianga region on the northeast of the Coromandel Peninsula also includes some of New Zealand's best beaches: Hahei, Kuaotunu, Matarangi and Hot Water Beach where you can dig a hot spa pool in the sand. The pohutukawa tree fringed coastal scenery is just awesome.
To download the Tait's Coromandel Fun Map and enjoy a virtual tour of the Whitianga Region. Or pick up the Fun Map brochure from the Whitianga i-SITE (or other outlets) and plan your day.
Whitianga is just two and a half or three hours coastal drive from Auckland, Hamilton or Tauranga. One and a half hours from Thames.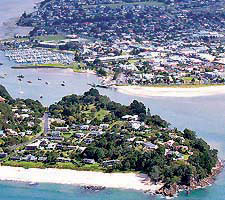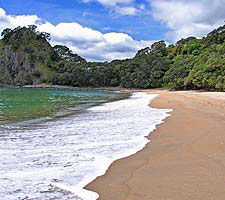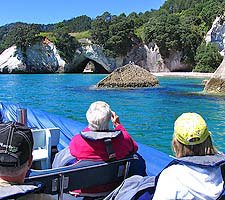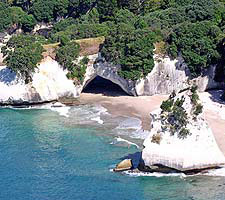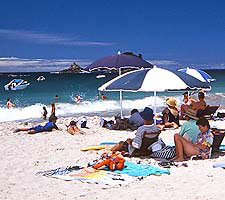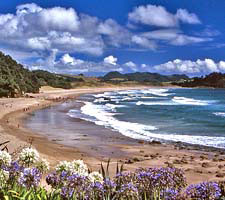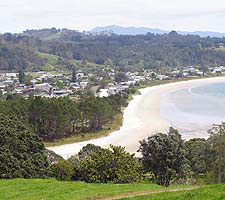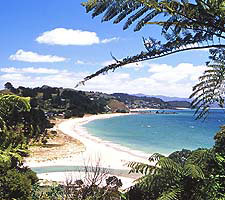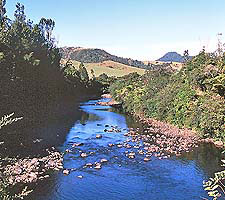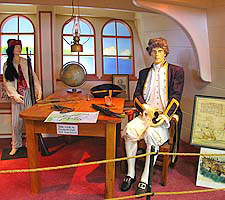 Whitianga Town
There's plenty to do in town when on your Whitianga holiday. The Whitianga Cafes, restaurants, bars and takeaways cater for all tastes in food. The Mercury Bay Museum offers a tase of local history. You can check out the shops, Whitianga art and gift galleries, cross over on the Whitianga Harbour Ferry for a pleasant walk or take to the water for all types of Mercury Bay water activities.
The Surrounding Region
The surrounding region covers from Matarangi to Hot Water Beach in the south. The Coromandel Holiday visitor will find a series of wonderful long white sandy beaches and pohutukawa tree fringed cliffs, small coves, estuaries and valleys with streams running back into the rugged hills. It is nature at its best and there are all types of Whitianga activities going on!
There are many Coromandel walking tracks in the area. Refer to fun map.
You can make a day trip from Whitianga starting with the Whitianga Ferry from the wharf to Ferry Landing across the harbour. Then hire a scooter or catch the shuttle bus which during summer months, provides a service between Ferry Landing, Cooks Beach, Dalmeny Corner, Hahei and Hot Water Beach.
The Purangi Winery and Cafe near Cooks Beach and Castle Rock Winery near Whangapoua make all types of wine and offer free tasting.
Plenty to do on the water
With such a diverse and beautiful coastline there is plenty to do on the water: swimming, surfing, glass bottom boat, diving, snorkelling, sea kayaking and charter boats for Mercury Bay fishing, game fishing, sightseeing or adventure trips. Tuition is available in diving and surfing. See the activities ads for further details.
Many trailer boat launching ramps are available throughout the region - refer to the fun map for location.
Hahei, Cathedral Cove
Hahei is a most spectacular and brilliantly white sandy beach - reputedly the 'most enjoyed of all the Coromandel Peninsula beaches'. The commercial centre includes Hahei cafes, restaurants, a beach store and takeaways, ice cream parlour and gift shop. There is Hahei accommodation to suit most budgets.
The popular walk to Cathedral Cove starts here as does the Cathedral Cove Marine Reserve. Hereheretaura Point at the south end of the beach, now a reserve and pleasant walk, was once a large Maori Pa (village).
A highlight of the area is Cathedral Cove, the much photographed cave through the white headland. To get there turn left at the Hahei shops and go on to the car park at the end of the road. From here it is a 1 hour (each way) coastal walk with panoramic clifftop views. There is no access from Lees Road.
You can also get there on the water with the Coromandel Peninsula highlights Hahei Explorer or Cathedral Cove Sea Kayaks from Hahei.
Hot Water Beach
It is something different, but not as some expect a steaming beach with hot water surf! You can enjoy a naturally hot spa bath - shifting sands permitting - by simply digging a hole in the warm sand near the rocky outcrop a short distance up the beach.
It's good fun summer and winter, but plan your day - the hot water is accessible at LOW TIDE ONLY. Spades for digging your pool are available for hire. WARNING! Swimming in the sea at Hot Water Beach can be DANGEROUS - do not swim in the surf unless you are a strong swimmer or in the care of the Surf School.
There is limited accommodation at Hot Water Beach so book early. Don't miss the Hot Waves Café.
Cooks Beach & Lonely Bay
The long and lovely sandy beach which caught Captain Cook's eye is today a beach resort with Cooks Beach accommodation, cafe and a shopping centre. The beach is safe for family swimming. The adjacent Purangi Estuary has an excellent trailer boat launching area. Lonely Bay (you can walk down from the Shakespeare Reserve) is a highlight of the area. Across the estuary the new Stella Evered Park has two beaches and the stream where Cook refilled his water barrels. Access to the park is from Lees Road.
Ferry Landing & Flaxmill Bay
This area, accessible by car or ferry from Whitianga has safe family beaches, a good range of short walks, top cafes and friendly beach store. You can hire a scooter to get about.
Kuaotuna, Rings Beach, Whangapoua & Matarangi
To the north of Whitianga, Kuaotunu was once a prosperous gold mining town but today is simply a wonderful holiday beach supporting a small community with Kuaotunu B&B accommodation and a beach store. The steep and winding, once notorious Black Jack Road leads over to the beautiful Otama and Opito beaches. There is an excellent walk at the far end of Opito Bay.
Rings Beach and Kuaotunu West form separate communities with long white sandy beaches - some of the best on the peninsula.
Matarangi is a modern beach resort with the Matarangi Shopping Centre, air strip, long surf beach and the sheltered Whangapoua Harbour.
Boat launching ramps in the area allow boaties to visit the Mercury Islands which are just offshore.
Whenuakite, Coroglen, Tapu Road, 309 Road and the Hills & Valleys
Head up the valleys for breathtaking hill scenery, bush walks, bird park, gardens, pottery, riverside camping, horse trekking and mountain biking. Fast-flowing stony streams follow the roadside with waterfalls and swimming holes. The Lone Kauri Tree on the Coroglen-Tapu Road is a nice example. The 309 Road and Coroglen-Tapu Road both cross to the west side of the Peninsula. These roads are very scenic but are unsealed, winding and narrow so drive slowly and carefully!
The old pub at Coroglen is not to be missed – friendly service, top bands out the back and the best burgers on the Coromandel!
Whitianga Wharf & Ferry Landing Ferry Service
A passenger only ferry service operates between Whitianga Wharf and Ferry Landing.
FERRY TIMETABLE:
Continuous service from 7.30am each day but hours vary seasonally. Refer to www.whitiangaferry.co.nz
The Mercury Bay Museum
This region has New Zealand's earliest recorded history - over 1000 years. The early settlement of Whitianga quickly became a major NZ port, trading internationally in flax, kauri gum and enormous quantities of kauri and other native timbers. For a fascinating view of these early years don't miss the Mercury Bay Museum opposite the wharf on The Esplanade, Whitianga. There are displays on: the Polynesian Kupe, the British explorer Captain Cook, local shipwrecks, the kauri forests, early machinery, Maori artifacts and a large collection of colonial and wartime relics.
Art & Craft Studios and Galleries
Throughout the region a diverse range of high quality art is on show: pottery, painting, photography, glassware, sculpture, carving (in bone, wood and greenstone), house and garden decor, jewellery, spinning, weaving and knitting, garden decor, silk flowers and more. Treat yourself - invest in some local art. Tuition, sometimes live-in, is available at some places.
How to Find Us
Refer to the maps page.
Where to Stay
The visitor has a choice of all types of places to stay in Whitianga with accommodation including lodges, Whitianga Motels, Mercury Bay campgrounds with cabins, campervan parks, backpackers, old pubs. Click here to view the Whitianga accommodation page.