Coromandel Transport & Tours
GETTING to AND AROUND the Coromandel Peninsula
The Coromandel Peninsula is 1½ hours drive from central Auckland, Tauranga, Hamilton; 2¼ hours from Rotorua and just 1¼ hours from Auckland International Airport.
All types of vehicles: cars, camper vans, 4x4s and mobile homes are available for rental, and regular bus services go there from the main centres. Passenger ferries go to Coromandel Town from Downtown Auckland via Waiheke Island and smaller airlines operate to Coromandel airstrips. Regular bus services operate around the Peninsula.
Some roads on the hilly Coromandel require careful driving but generally the main roads are sealed and not difficult. If you do find driving tiring the main road is never far from the coast so you can always stop at a nice beach and freshen up with a swim!
Coromandel Tours
Most towns on the Coromandel have operators doing mini bus tours and some pickup/drop off at the Auckland International Airport.
Sea Tours
There are several operators doing charters and sea tours in the region especially along the spectacular coastline between Whitianga and Hot Water Beach. Some of these tours include a hint of adventure, eg snorkeling or kayaking, others in larger boats are suitable for all ages. The Coromandel is a paradise for photographers.
Coromandel Town TRANSPORT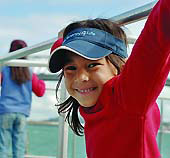 Sit back and enjoy the Hauraki Gulf's best scenery with 360 DISCOVERY. One way, return, 1 day excursion or weekend escape - see our website for details, schedules, packages and fares. The ferry calls at Orapiu on Waiheke's eastern end. Fare includes bus transfers from Wharf to Coromandel Town. Bikes are FREE!
Whitianga & Hahei TRANSPORT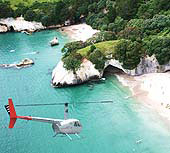 Design your own Helicopter adventure! Choose from one of our luxury scenic flights, City transfer, Island hopping, Heli picnic, Vineyard lunch or one of our ultimate heli sport adventure flights! You will love the spectacular scenery whichever flight you choose. Contact us any time and see your dream come to life!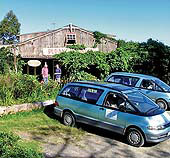 With Winecellar and Café makes many wines and liqueurs from organic estate fruits and herbs and is developing a tea garden. Also at: The Winecellar St Kevin's Arcade, K' Road a celebrated Auckland wine, music and performing arts venue. Purangi Tours Connecting all points Ferry Landing/Hahei/Hot Water Beach/Dalmeny Cnr.
Purangi Road
Cooks Beach
Phone: 07 866 3724
Mobile: 021 774 091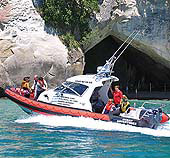 Whitianga's Ultimate Breakaway: Adventure and Fun - explore our amazing coastline by sea or land. Chill out - sample wine and local produce at Cook's Beach vineyard. Relax and Soak in natural hot water at the Lost Spring. Then unwind in our quiet 2.5 acre parklike garden. One nights accommodation included.
Thames, Whangamata, Southern Region Transport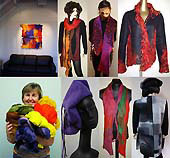 I design and create one-off fashion garments and accessories from finest NZ merino wool. Visit my Gallery or Regular felt-making workshops - a fun day producing your own creations. Also see creativevacationz.co.nz for details of our 7-12 day felt-making tours for small groups. Open 7 days. Just opposite i-SITE.
85 Whitaker Street
Te Aroha
Phone: 07 884 8846
Workshop inquiries: rpo@ihug.co.nz